Kid Rodeo
In about 1976, Bruce Gladwin's dad died and left him several million dollars. Bruce was then living in the Seattle area.
He'd always had a dream of owning a recording studio - and he was interested in California, particularly Santa Cruz, which he figured would emerge as one of the new centers of music on the west coast.
Putting his money where his mouth was, Bruce packed up and moved to Santa Cruz and opened Flux Recording Studio in Harvey West Industrial Park.
He spent about $350,000, and came up with a state of the art analog 16-track studio. It was by far the finest stereo I've ever seen or heard. No expense was spared.
He had an English mixing board, from Allen and Heath, with DBX and/or Dolby noise reduction on each discreet track. SAE power amps, with a Crown equalizer and all the usual effects - reverb, phase shifters, flangers and so on. All this fed into an Ampex 8000 series 16-track recorder, or if you liked, a Tascam 8 track, a Tascam ½ track, or a Crown ¼ track recorder. For making copies of a session that you could take home and listen to, he also had a top of the line Nakamichi cassette recorder.
Bruce had several sets of speakers to simulate different listening situations, including a set of JBL studio monitor speakers. For mics, he had some really expensive Neumann and Sennheiser mics, as well as some Sony's and Shure's and what not. To top it off, he had a Yamaha baby grand piano and several different guitars people could use.
Unlike most studios, there was no window in the control room - the only way you could see what was going on in the music room was via a video camera (which he really never used). There was no vocal or drum booth, just movable partitions that you could set up wherever you needed them.
The whole thing worked very well.
Bruce also had his own studio band. He gathered all the best studio players he could find for the band - which he named Kid Rodeo .
Sadly, the only full names I remember were the bassist, Willie Durbin and drummer Richard Ball. The others were Robin, lead guitar; Ernie, piano and keyboards; Annie, backup vocals and guitar; and her husband played pedal steel.
It was kind of a trip: Bruce had this vision of a country band - a Hank Williams Jr. kind of sound. But his rhythm section (Willie, Robin, Richard, and Ernie) were more into jazz and funk. As such, it made for a different kinda sound. Practices were strange - they'd work on some country ballad for a half hour, then Bruce would split for a bit and the band would screw around playing some jazz improvisation for fun. Very odd.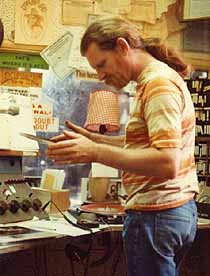 It never did really have a very country sound; overall, the space was more Bob Segar and the Silver Bullet Band. But it was very good.
I got to know Bruce while making a demo with Stir Crazy , and then after they dumped me, Bruce asked me to manage Kid Rodeo. I stuck around the studio for about a year. It was a helluva lot of fun.
All sorts of different people came through. Basically, everyone who was anyone in the music world stopped by the studio if they were passing through Santa Cruz - in those days, Flux was the only 16-track studio in town.
Neil Young was a frequent visitor at the studio (Neil spent the entire summer of 1977 in Santa Cruz, playing all the local bars with a friend, Jeff Blackburn, in a band called the Ducks. Here's another link to info on the Ducks and another. ). Jerry Miller hung out there at the studio. Tower of Power recorded there. All sorts of radio people came through. Buffalo Bob Cassidy (of KFAT) was always there (pictured at right).
I took it all in, loving every minute.
But music was only half the trip.
The nightlife at the studio was pretty wild and very damned interesting, what with all the luminaries coming and going. Plus there were a bunch of other sideshows.
Bruce himself, as a millionaire, attracted a lot of interest and many hangers-on who mostly sponged off him.
Bruce played the millionaire part well. He had a Ghia Panterra and a lot of other expensive toys and stuff, including a girlfriend named Rahnee with connections to Pebble Beach.
Very society.I tried to stay away from that aspect of the trip.
I didn't really have many duties as manager of Kid Rodeo. Basically I just hung out in the studio and watched as the band practiced, or as other people recorded, offering bits of advice and wisdom.
It really was a lot of fun.
The one job I did manage to get them - at the Boots and Saddles in La Honda - Bruce cancelled for some obscure reason.
The group eventually disintegrated because of control and personality problems - like most bands.
Before they folded, they did play several gigs at the bar next door to the studio - The Steamship. Bruce recorded these gigs. He ran a snake from the studio to the bar. The live cuts I have here were recorded using (I believe) his Tascam 8-track with several Neumann mics on booms.
Great quality, but not much separation between the tracks. I didn't really have to do anything to the tracks except amplify the volume a little (using Audacity). The tape was generally in very good condition (except for splices).
My own departure from Kid Rodeo pre-dated the demise of the group by a month or so. It was precipitated by my hitting one of Bruce's gophers - an asshole named Carrot - in the head with a full bottle of beer. I forget the reason - some disagreement about him being a brown-nosing, weasely, bootlicking, back-stabbing freeloader or something.
Bruce disagreed with my assessment of Carrot's character (as well as the beer bottle bashing) and fired me.
I was later vindicated when Carrot stole Bruce's Panterra - but by then it didn't matter because the group had folded.
Bruce and I parted on amicable terms. The last time I saw him was probably in 1978 or 79.
Kid Rodeo was my last band.
Following this debacle, I decided for once and for all, that all musicians are stupid, arrogant, egotistical assholes. I turned my back on music, and decided to go back to school and study business. I was so completely disgusted with music and musicians that I listened mostly to talk radio (KGO AM) for the next several years.
I enrolled at Cabrillo College in the next quarter, to study accounting.
Below are the songs that I have. Download the free MP3's and have a good listen -I hope you like them. Kid Rodeo was another band that really was pretty decent and died a premature death.
Tracks 1 and 5 were recorded in the studio. All others were recorded live, next door at the Steamship.
Note: If you want to stream the files, just click on a link. If you want to download a file, right-click on the link and select "Save Target As " and you can save it yo your computer.