Favorite Hikes
Pt Defiance Park
My all-time favorite hike is around Pt Defiance Park in Tacoma.
At 696 acres, Pt Defiance is one of the 20 largest urban parks in the United States, offering a combination of old-growth trees and lots of saltwater.
There's a very complex system of trails that criss-cross the park. My favorite is to go around the outside perimeter.
I usually start out at the Pagoda, then walk to the Boathouse, and down the beach. Just before the point, there's a trail up to the top of the cliffs (it comes out up by the Mountaineer Tree). From that point, I walk around the outside trail, via Ft Nisqually and Camp Six, and then back by the Zoo to my car.
It's a great walk. You've got great beach and water views for the first mile and a half or so, and then trails though the forest. When you're walking on the trail, it's really hard to believe you're still right in the city.
I usually do this 2-3 times a week every week.
Location: On North Pearl Street - Tacoma
Total miles: about 4.8. Elevation gain – about 350 feet
Click here to take a virtual walk around Pt Defiance.
Left: Owen Beach from near the Boathouse
Mt Si
Every year since I got custody of my kids in 1995, we've done Mt Si, usually at the start of the season.
It's a good conditioner, and it's got everything a good hike should have – lots of switchbacks and a neat little rock climb at the top. On the way down, the kids always run.
From the top, you look almost directly down on the town of North Bend, several thousand feet below – it's almost like being up in an airplane.
On a clear day you can see Bellevue and Seattle, and even Tacoma, plus great views of Mt Rainier and the rest of the Cascades.
Our best time is about 2 hours and 15 minutes up.
Go early! It's so close to Seattle that by afternoon on a nice day, there will be hundreds of people on the trail.
Location: About 20 miles due east of Bellevue, at North Bend.
Total Miles: about 4.6 each way. Elevation gain – about 3,600 feet
Right: The Haystack (Mt Si Summit- 2002)
Camp Muir
Camp Muir - RMI Shelter in background - 1998
We've done Camp Muir just three times. It's the hardest day-hike in the state, almost.
Leaving Paradise on Mt Rainier (5,400 feet), you go up the Deadhorse Creek Trail to the Skyline Trail, up Panorama Point, and then to Pebble Creek (2 ½ miles). From Pebble Creek (7,300 feet), you hike another 2 ½ miles up the Muir Snowfield to Camp Muir (10,188 feet).
The close-up views of Rainier are unsurpassed. And on a clear day, you can see Mt St Helens, Mt Adams and Mt Hood, as well as the Tatooshes.
The last time we did it (last year in June) we went early while there was still snow the entire way, and the kids brought their snowboards. It was a real gas.
The downside is that after about 8,000 feet, I have a real tough time breathing (just not enough O2 up there for me).
Below: Mason, Nick, Dylan and Trav, just below Camp Muir (2003).
The other downside is that it's dangerous as hell – every year someone dies up there, it seems. There are cliffs all over the place. All you need is a fogbank or whiteout and you're lost and SOL (one patch of snow looks suspiciously like every other patch of snow).
I'm chicken as hell – I never go above Pebble Creek unless the weather's good, and even then we carry a GPS (now two GPS's – I bought a second one).
No world class times here. Our best time up was something like 5 hours.
Location: On the south flank of Mt Rainier above Paradise
Mileage: not quite 5 miles each way. Elevation gain: almost 5,000 feet
Pebble Creek
Pebble Creek is at the base of the Muir Snowfield.
For the last several years, we've done Pebble Creek usually 2-3 times a year. We start going just after the snow base has consolidated (and avalanche danger has past – say in late April).
Halfway up to Camp Muir, this is the easy part. When the trail is bare, my best time to Pebble Creek is an hour and 15 minutes. With snow, it's more like a couple hours.
The kids will usually take their snowboards and board back down (I slide on my ass).
There are some spots that are absolutely fantastic boarding/sliding.
Panorama Point is great – spots so steep you think you're gonna die, when you're looking down from the top. Then you push off, and before you know it, you're at the bottom.
The best boarding/sliding is going back via the High Skyline and Golden Gate trails (over towards the Paradise Glacier). The snow usually lasts till late June or early July.
Above: Dylan, Don, Travis and Mason, just below Pebble Creek (Nisqually Glacier in the background), getting ready to board down (2003)
Above: Nick and Mason above Panorama Point, with the Rainier Summit in the background (2003)
Location: On the south flank of Mt Rainier above Paradise
Mileage: Approximately 5-7 miles round trip. Elevation gain: about 2,500 feet
Emerald Ridge
On the west side of Mt Rainier, Emerald Ridge is on one of the less-traveled routes.
You park your car at the end of the West Side Road, then hike up the old washed-out road to the Round Pass trail. From there take the South Puyallup trail till it comes into the Wonderland trail, then continue up to Emerald Ridge (5,600 feet).
At the top, you've got mass wildflowers, mountain goats, marmots and a gorgeous view of the west side of Rainier.
You descend continuing east on the Wonderland trail till you get to the Tahoma Creek Suspension Bridge.
Left: Martin, Mason, Trav and James at Emerald Ridge - Rainier Summit in background (1998)
Below: Mason on the Tahoma Creek Bridge (2001)
The Tahoma Creek bridge is the best bridge anywhere – right out of Indiana Jones.
The bridge is maybe 150 feet long – a suspension bridge held up by wire ropes. You walk on 2X4 planks while holding onto the wire ropes – over a gorge that is maybe 200 feet deep.
The bridge sways and bucks and swings from side to side – this is not for people that are faint of heart (or scared of heights).
After you're done playing on the bridge, you walk out on the old Tahoma Creek trail – an unofficial, un-maintained trail – that rejoins the road after about a mile and a half.
This is a wonderful hike, with great scenery. We've done it 3-4 times. It's an all-dayer.
Location: west side of Mt Rainier.
Mileage: about 14 miles round trip. Elevation gain: about 3,000 feet.
Third Burroughs Mountain
Third Burroughs Mountain is on the east side of Mt Rainier. It's the last of the Burroughs Range (there are First, Second and Third Burroughs Mountains).
Starting from Sunrise (6,000 feet), you walk west past Frozen Lake, and then up First Burroughs, down over a short saddle, then up more switchbacks, and onto Second Burroughs. At the west end of Second Burroughs is a massive stone seat, which faces directly across a huge valley from the Emmons, Inter and Winthrop Glaciers.
From this spot, with binoculars, you can follow the progress of climbing parties on their way up to the top.
From here, you descend almost 500 feet to the west and walk a cross a saddle and then ascend up Third Burroughs, going on an unofficial trail to the summit – at about 8,300 feet.
Mike, Cubby and Trav at the summit of Third Burroughs (2001)
At the top, you're almost face to face with the Winthrop Glacier – it seems almost close enough to touch.
From here, it seems like you can almost see climbers on the summit of the mountain without binoculars.
Coming back, you retrace your earlier route until going down Second Burroughs, when we usually cut over to the trail that goes along the rim of the canyon overlooking Glacier Basin (it skirts along the south flanks of the Burroughs chain).
We've done this route 3-4 times.
Location: east side of Mt Rainier, by Sunrise
Mileage: about 8 miles round trip. Elevation gain: about 3,000 feet.
Spray Park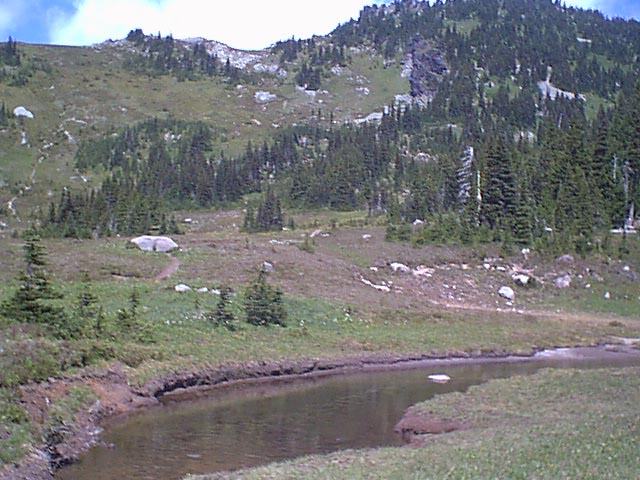 Spray Park is on the North side of Mt Rainier, near Mowich Lake.
From Mowich Lake, go east on the Spray Park Trail, past Eagle Cliff and Spray Falls. Spray Park is all sub-alpine wild flowers with great vistas of Mt Rainier's summit.
There are a number of popular scrambling destinations accessible from here: Hessong Rock, Mt Pleasant, Fay Peak, as well as Observation Rock, and Echo Rock.
We've been up here several times, the most recently last summer – when we backpack camped overnight at the Eagle's Roost camp, and did day hikes to Hessong Rock and Mt Pleasant.
Spray Park, from Hessong Rock - 2003
Spray Park - 6,000 foot pass, Rainier summit in background -
Trav, Mason and Christina - Mike standing, Joe in the far distance (1997)
Our longest day hike went through here.

We parked one car at the Carbon River Ranger station, and then all went to Mowich Lake and hiked up Spray Park, going east on the Spray Park Trail all the way to the 6,000 feet pass, and from there, descended through Mist Park and Seattle Park till where the trail runs into the Wonderland Trail, near the Carbon River.
We played on the Carbon River Suspension Bridge for a while (not even as good as the Tahoma Creek Bridge, but fun nonetheless) and then hiked out down the Carbon River to Ipsut Creek Campground. From there, we followed the road (which was closed because of flood damage) to the Carbon River Ranger station – 17 miles. It took us almost 12 hours – maybe a 3,000 foot gain and about a 5,000 foot elevation loss! We were going downhill all day long, it seemed like.
Another shorter hike is to the fire lookout on Tolmie Peak.
Going down the west shore of Mowich Lake, hike past Ipsut Pass, then up the Tolmie Peak trail to the old abandoned fire lookout on top of Tolmie Peak. It's a cool place, with great views of the mountain. This is pretty short – about 6 and a half miles, round trip, with only about 1,000 foot elevation gain.
A harder trip is Ipsut Pass.
We did it once. Coming from Ipsut Creek Campground, you go south on the Wonderland trail. Most of the trail is pretty mellow, till you get to the base of the pass – then it's steep switchbacks for maybe ½ mile where you gain almost 1,000 feet. Eleven miles round trip. You top out at the junction to the Tolmie Peak trail.
Location: North side of Mt Rainier, near Mowich Lake
Mileage: varies
recording